READ MORE ABOUT THE ANGEL TREE PROJECT
Mission Fundraiser for Hurricane Relief: The Mission Committee Is selling Enjoyments Books for $35 each. ALL profits will go to Hurricane Relief. Books are on sale after church on Sunday November 18th and in the church office during the week.
Care & Nurture and Children's Sunday School will be participating in the Salvation Army's Christmas Stocking Program. See bulletin announcements for details. Empty Stockings are distributed to the congregation on November 25th and to be returned, filled on December 9th.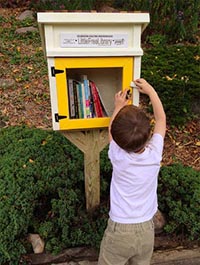 Peace Presbyterian Church is proud to announce we are hosting our
very own Little Free Library! The community oriented concept is to
take a book and leave a book at the Little Free Library located in our
parking lot nearest to Salerno Bay Manor Nursing Home.
Stop buy and take a look or visit the website to learn more!
 https://littlefreelibrary.org