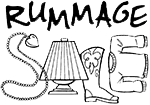 "The
Annual Rummage Sale
in Fellowship Hall is
Friday from 5-7 pm
with a $1
early entrance fee and Saturday from 8-12 Noon...Men's and women's clothes,
linens, LOTS of jewelry, holiday decorations, electronics, dishes, books,
pictures, frames, bric a brac, purses, shoes, and decorative items.
Friday, Hot dog, chips and drink for $2.00 (Homemade Sauer Kraut available)
Saturday Donut and coffee for $1.00"
Potential New Members will meet with Dr. Bailey in his office on Sunday, January 18, 2015 at 9 am, will meet with him again on Sunday, January 25th at 9 am and will join at the 10 am service that day. Please contact the church office if you are interested in more information about becoming a part of our church family.
Thank you, Melanie